How To Apply to Our Training Program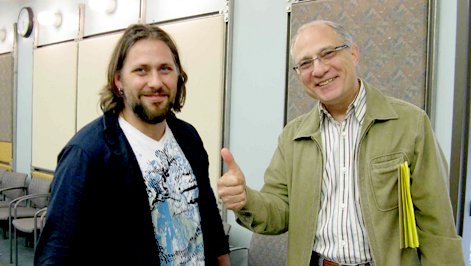 If you are not already in our graduate program, you need to apply through the department of Chemistry and Biochemistry at UCSD. Applications to the doctoral program are only accepted for fall quarter entrance. Although a master's degree may be earned while in residence, there is no admission directly to a master's program. Most offers of admission to the doctoral program are made by early February, and complete applications received by early January thus have an advantage. We recommend all GRE tests be taken in October but no later than December. To make admissions decisions, the department considers the following for each applicant:
Statement of purpose
Research experience or publications
Letters of recommendation
Undergraduate record (minimum average grade of B, a 3.0 on 4.0 scale)
Quality of the undergraduate university
GRE scores on general test (verbal, quantitative, and analytical)
GRE advanced test score (either chemistry or biochemistry)
TOEFL score (minimum 550 required; test date within the past two years)
Competitiveness of the applicant pool
For more information and an application, contact:
Joint Doctoral Program
The Department of Chemistry and Biochemistry at UCSD and the Department of Chemistry at San Diego State University offer a joint program of graduate study leading to the Ph.D. degree in chemistry. The application is handled through San Diego State.
Post-Doctoral Trainees

If you are interested in carrying out research in this program under the supervision of one of the Training Faculty Members of this grant, please send an inquiry (e-mail preferred) to the program director, Dr. Daniel Donoghue:

Dr. Daniel Donoghue
University of California, San Diego
Department of Chemistry and Biochemistry
9500 Gilman Drive, Urey Hall-6114
La Jolla, CA 92093-0367
Email: ddonoghue@ucsd.edu

NONDISCRIMINATION STATEMENT: The University of California does not discriminate on the basis of race, color, national origin, religion, sex, disability, or age in any of its policies, procedures, or practices; nor does the university discriminate on the basis of sexual orientation. This nondiscrimination policy covers admission and access to and treatment and employment in university programs and activities, including but not limited to academic admission, financial aid, educational services, and student employment. The university strives for a student population diverse in culture, gender, and ethnicity. Inquiries regarding the university's equal opportunity policies may be directed to the campus compliance coordinator, (858) 534-6861.