Investigations of SR Protein Kinase1 Interaction with ASF/SF2 in the Treatment of Leukemia
Jacky Ngo
Appointment Period: 2003-2006, Grant Years: [19,20,21]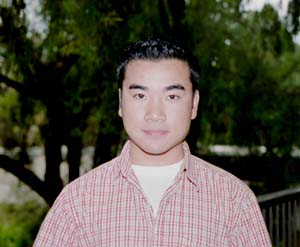 I have been working towards understanding the molecular features of SR protein kinase 1 using x-ray crystallography. I investigated several crystal structures; apo-SRPK1 and SRPK1/ADP binary complex and SRPK1/ADP/peptide ternary complex. In addition to crystallography, I performed extensive mutagenesis and functional analysis of SRPK1. My structure has led to the discovery of how SRPK and Clk/Sty, a splicing kinase in the nucleus, coordinate in regulating subcellular and subnuclear localization of SR proteins. One manuscript made the cover of the October 7, 2005 issue of Molecular Cell! Using crystals of SRPK1 bound to full length ASF/SF2, my final project was identify conditions to obtain large diffracting crystals and determine the molecular structure of the complex. This will be the first structure of kinase bound to a native substrate.

Nolen B, Ngo J, Chakrabarti S, Vu D, Adams JA, Ghosh G. Nucleotide-induced conformational changes in the Saccharomyces cerevisiae SR protein kinase, Sky1p, revealed by X-ray crystallography. Biochemistry. (2003) 42:9575-85. PMID: 12911299.

Aubol BE, Chakrabarti S, Ngo J, Shaffer J, Nolen B, Fu XD, Ghosh G, Adams JA. Processive phosphorylation of alternative splicing factor/splicing factor 2. Proc Natl Acad Sci USA. (2003) 100:12601-6. PMID: 14555757; PMCID: PMC240664.

Ngo JC, Chakrabarti S, Ding JH, Velazquez-Dones A, Nolen B, Aubol BE, Adams JA, Fu XD, Ghosh G. Interplay between SRPK and Clk/Sty kinases in phosphorylation of the splicing factor ASF/SF2 is regulated by a docking motif in ASF/SF2. Mol Cell. (2005) 20:77-89. PMID: 16209947.

Ngo JC, Gullingsrud J, Giang K, Yeh MJ, Fu XD, Adams JA, McCammon JA, Ghosh G. SR protein kinase 1 is resilient to inactivation. Structure. (2007) 15:123-33. PMID: 17223538.

Ngo JC, Giang K, Chakrabarti S, Ma CT, Huynh N, Hagopian JC, Dorrestein PC, Fu XD, Adams JA, Ghosh G. A sliding docking interaction is essential for sequential and processive phosphorylation of an SR protein by SRPK1. Mol Cell. (2008) 29:563-76. PMID: 18342604; PMCID: PMC2852395.

Hagopian JC, Ma CT, Meade BR, Albuquerque CP, Ngo JC, Ghosh G, Jennings PA, Fu XD, Adams JA. Adaptable molecular interactions guide phosphorylation of the SR protein ASF/SF2 by SRPK1. J Mol Biol. (2008) 382:894-909. PMID: 18687337; PMCID: PMC2741138.

Huynh N, Ma CT, Giang N, Hagopian J, Ngo J, Adams J, Ghosh G. Allosteric interactions direct binding and phosphorylation of ASF/SF2 by SRPK1. Biochemistry. (2009) 48:11432-40. PMID: 19886675.