Schlafen Proteins Modulate Interferon-Mediated Anti-Cancer Activity
Kirsten Vroom (Limmer)
Appointment Period: 2004-2007, Grant Years: [20,21,22]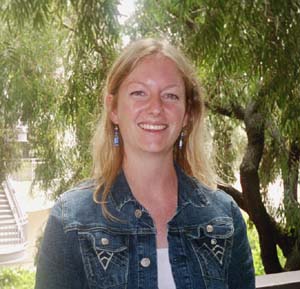 Interferons (IFNs) are widely used in the treatment of many neoplasms such as myeloma, renal cell carcinoma, epidermoid cervical and head and neck tumors and melanoma. Strong evidence suggests that tumor cells undergo cell cycle arrest and apoptosis upon exposure to this family of cytokines. Our cells also naturally produce IFN in response to certain stimuli, which can function to generate both antiviral and antitumor effects.

We have aimed our research at elucidating the function of Schlafen, a poorly characterized class of genes that upregulate IFN gene transcription, with the hypothesis that these proteins regulate IFN-mediated antitumor activity. We have discovered that Schlafen proteins function as DNA/RNA binding proteins (helicases) and elicit downstream apoptotic effects. Our data suggests that the many different family members of Schlafen seem to act in concert with one another to either upregulate or downregulate IFN gene transcription, depending on which Schlafen family members are involved. We are currently investigating the exact mechanism of this effect by pulldown assays and mass spectrometry to find binding partners. Our preliminary data suggests that Schlafen proteins are involved in the IRF3 signalling cascade. Elucidating the exact pathways that regulate IFN activation can provide important new therapeutic anti-cancer targets.

Li M, Kao E, Gao X, Sandig H, Limmer K, Pavon M, Landry S, Pan T, Weitzman MC, David M.  Codon usage-based Inhibition of HIV Protein Synthesis by Human Schlafen 11. (2012) Nature, In revision.
Chiang CY, Veckman V, Limmer K, David M. Phospholipase C-2 and intracellular calcium are required for lipopolysaccharide-induced Toll-like receptor 4 (TLR4)endocytosis and interferon regulatory factor 3 (IRF3) activation. J Biol Chem.2012 Feb 3;287(6):3704-9. Epub 2011 Dec 12. PubMed PMID: 22158869; PubMed CentralPMCID: PMC3281733.