Interaction between cyclin B1/CRS domain and the tumor suppressor Ptc1
Elizabeth Barnes
Appointment Period: 2002-2003, Grant Year: [18]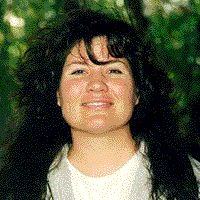 I was awarded a NIH/NCI NRSA Minority Supplement under this grant as a predoctoral trainee from 1997-2002. I was also supported as a postdoctoral trainee in 2003, in which I extended the research from my graduate studies on Ptc1. My postdoctoral research examined a specific mutation in the Patched1 gene. Patched1 (ptc1) is a tumor suppressor found frequently mutated in association with Nevoid Basal Cell Carcinoma Syndrome (NBCCS) and basal cell carcinoma (BCC), one of the most common cancers in the U.S. with over 1,000,000 cases reported per year. Even though mutations in ptc1 play a key role in the development of NBCCS, BCC and other associated cancers, the mechanism behind ptc1 function has not been clearly defined. The ptc1-Q688X that I chose to study has been identified in patients with both BCC and nevoid basal cell carcinoma syndrome. We described a mechanism by which ptc1-Q688X causes constitutive cellular signaling. Cells expressing ptc1-Q688X demonstrate an increase in cell cycle progression and induce cell transformation. The ptc1-Q688X mutant enhances Gli1 activity, a downstream reporter of sonic hedgehog (shh)-ptc1 signaling, independent of shh stimulation. In contrast to wild-type ptc1, ptc1-Q688X fails to associate with endogenous cyclin B1.

Porter LA, Dellinger RW, Tynan JA, Barnes EA, Kong M, Lenormand JL, Donoghue DJ. Human Speedy: a novel cell cycle regulator that enhances proliferation through activation of Cdk2. J Cell Biol. (2002) 157:357-66. PMID: 11980914; PMCID: PMC2173287.

Barnes EA, Porter LA, Lenormand JL, Dellinger RW, Donoghue DJ. Human Spy1 promotes survival of mammalian cells following DNA damage. Cancer Res. (2003) 63:3701-7. PMID: 12839962.

Barnes EA, Heidtman KJ, Donoghue DJ. Constitutive activation of the shh-ptc1 pathway by a patched1 mutation identified in BCC. Oncogene. (2005) 24:902-15. PMID: 15592520.

Fidalgo da Silva E, Ansari SB, Maimaiti J, Barnes EA, Kong-Beltran M, Donoghue DJ, Porter LA. The tumor suppressor tuberin regulates mitotic onset through the cellular localization of cyclin B1. Cell Cycle. (2011) 10:3129-39. PMID: 21900748.