Identification of a Family of Secreted Protein Kinases
Vincent Tagliabracci
Appointment Period: 2011-2013, Grant Years: [27,28]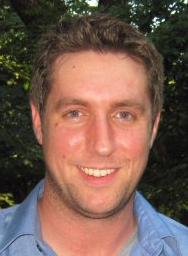 Protein phosphorylation is a fundamental mechanism regulating nearly every aspect of cellular life. The majority of phosphoproteins are intracellular; however, numerous extracellular proteins are phosphorylated. In fact, the first evidence of protein phosphorylation was provided in 1883 when the secreted protein casein was shown to contain stoichiometric amounts of phosphate. Historically, casein has been used as a model substrate for the detection of several protein kinases, including the first discovery of a protein kinase activity and the identification of casein kinase-1 and casein kinase-2. However, these enzymes are physiologically unrelated to casein as they are mainly cytosolic and nuclear protein kinases that would be unlikely to encounter casein in the secretory pathway and therefore have been renamed protein kinase CK1 and protein kinase CK2. Given the history of casein in protein phosphorylation research, it is somewhat of a paradox that the bona fide casein kinase has yet to be molecularly identified. Nevertheless, a casein kinase activity has been characterized from highly enriched Golgi fractions of the lactating mammary gland, liver, brain and kidney and accordingly named Golgi casein kinase (GCK). We identified a family of atypical protein kinases that localize within the Golgi apparatus and are secreted. We discovered that Fam20C is the GCK responsible for phosphorylating secretory pathway proteins within S-x-E motifs. Fam20C phosphorylates the caseins and several secreted proteins implicated in malignant transformation and biomineralization, including the small integrin-binding ligand, N-linked glycoproteins or SIBLINGs.  Consequently, mutations in Fam20C cause a devastating osteosclerotic bone dysplasia in humans known as Raine syndrome. Our results establish the molecular identity of the first mammalian kinase dedicated to the phosphorylation of extracellular proteins.
PUBLICATIONS (resulting from this training)
Tagliabracci VS, Engel JL, Wen J, Wiley SE, Worby CA, Kinch LN, Xiao J, Grishin NV, Dixon JE. Secreted kinase phosphorylates extracellular proteins that regulate biomineralization. Science. 2012 Jun 1;336(6085):1150-3. Epub 2012 May 10. PubMed PMID: 22582013. 
Other publications (prior to Training Grant appointment):
 Roach PJ, Depaoli-Roach AA, Hurley TD, Tagliabracci VS. Glycogen and its metabolism: some new developments and old themes. Biochem J. 2012 Feb 1;441(3):763-87. Review. PubMed PMID: 22248338.
Guo X, Engel JL, Xiao J, Tagliabracci VS, Wang X, Huang L, Dixon JE. UBLCP1 is a 26S proteasome phosphatase that regulates nuclear proteasome activity. Proc Natl Acad Sci U S A. 2011 Nov 15;108(46):18649-54. Epub 2011 Sep 26. PubMed PMID: 21949367; PubMed Central PMCID: PMC3219150. 
Jewell JL, Oh E, Ramalingam L, Kalwat MA, Tagliabracci VS, Tackett L, Elmendorf JS, Thurmond DC. Munc18c phosphorylation by the insulin receptor links cell signaling directly to SNARE exocytosis. J Cell Biol. 2011 Apr 4;193(1):185-99. Epub 2011 Mar 28. PubMed PMID: 21444687; PubMed Central PMCID: PMC3082181. 
Tagliabracci VS, Heiss C, Karthik C, Contreras CJ, Glushka J, Ishihara M, Azadi P, Hurley TD, DePaoli-Roach AA, Roach PJ. Phosphate incorporation during glycogen synthesis and Lafora disease. Cell Metab. 2011 Mar 2;13(3):274-82.  PubMed PMID: 21356517; PubMed Central PMCID: PMC3124772. 
Jiang S, Heller B, Tagliabracci VS, Zhai L, Irimia JM, DePaoli-Roach AA, Wells CD, Skurat AV, Roach PJ. Starch binding domain-containing protein 1/genethonin 1 is a novel participant in glycogen metabolism. J Biol Chem. 2010 Nov 5;285(45):34960-71. Epub 2010 Sep 1. Erratum in: J Biol Chem. 2011 Nov 11;286(45):39673. PubMed PMID: 20810658; PubMed Central PMCID: PMC2966110.
Tagliabracci VS, Roach PJ. Insights into the mechanism of polysaccharide dephosphorylation by a glucan phosphatase. Proc Natl Acad Sci U S A. 2010 Aug 31;107(35):15312-3. Epub 2010 Aug 19. PubMed PMID: 20724661; PubMed Central PMCID: PMC2932587. 
DePaoli-Roach AA, Tagliabracci VS*, Segvich DM, Meyer CM, Irimia JM, Roach PJ.  Genetic depletion of the malin E3 ubiquitin ligase in mice leads to lafora bodies and the accumulation of insoluble laforin. J Biol Chem. 2010 Aug 13;285(33):25372-81. Epub 2010 Jun 10. PubMed PMID: 20538597; PubMed Central PMCID: PMC2919100. * denotes co-first authors
Heyen CA, Tagliabracci VS, Zhai L, Roach PJ. Characterization of mouse UDP-glucose pyrophosphatase, a Nudix hydrolase encoded by the Nudt14 gene.  Biochem Biophys Res Commun. 2009 Dec 25;390(4):1414-8. Epub 2009 Nov 5. PubMed PMID: 19896456; PubMed Central PMCID: PMC2798163.
Tagliabracci VS, Girard JM, Segvich D, Meyer C, Turnbull J, Zhao X, Minassian BA, Depaoli-Roach AA, Roach PJ. Abnormal metabolism of glycogen phosphate as a cause for Lafora disease. J Biol Chem. 2008 Dec 5;283(49):33816-25. Epub 2008 Oct 13. PubMed PMID: 18852261; PubMed Central PMCID: PMC2590708.
Tagliabracci VS, Turnbull J, Wang W, Girard JM, Zhao X, Skurat AV, Delgado-Escueta AV, Minassian BA, Depaoli-Roach AA, Roach PJ. Laforin is a glycogen phosphatase, deficiency of which leads to elevated phosphorylation of glycogen in vivo. Proc Natl Acad Sci U S A. 2007 Dec 4;104(49):19262-6. Epub 2007 Nov 26. PubMed PMID: 18040046; PubMed Central PMCID: PMC2148278.
Lin S, Tagliabracci VS, Chen X, Du Y. Albumin protects cultured cerebellar granule neurons against zinc neurotoxicity. Neuroreport. 2005 Sep 8;16(13):1461-5. PubMed PMID: 16110272.