Functional Roles of enhancer RNAs in Transcriptional Regulation
Aaron (Yun) Chen
Appointment Period: 2012-2013, Grant Years: [28]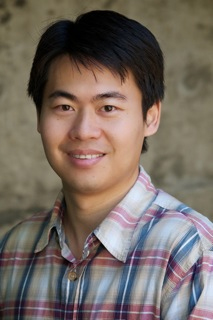 Both protein-coding and non-coding RNAs are required for normal tissue homeostasis, but they also drive pathological processes in a broad spectrum of human diseases, e.g. cancer and diabetes. While the function of enhancer has been well established and our data have suggested the functional importance of enhancer RNAs (eRNAs), the mechanism underlying this function is poorly understood.
During the training period under this T32, I have: (i) used Locked Nucleic Acid (LNA) as well as siRNA strategies to ascertain roles of enhancer RNAs (eRNAs) in nuclear architecture remodeling during ligand-regulated gene programs; and (ii) examined the effect of eRNA in nuclear receptor signaling and cancer cell proliferation. Our data showed that eRNA is functionally critical for the activation of estrogen-regulated genes. These eRNAs are required to strengthen the specific enhancer–promoter looping initiated by estrogen receptor binding. Inhibition of some critical eRNAs can significantly reduce the proliferation of breast cancer cells Furthermore, abolishing eRNA by strand-specific LNAs significantly inhibited the colocalization of estrogen target genes and transcriptionally active nuclear bodies, e.g. interchromatin granules. Mechanistically, our preliminary data suggest that this loss of colocalization may be due to the impotence of de novo interchromatin granule formation at the transcriptional activation sites.
Identifying cancer-specific eRNAs and investigating the basis for eRNA function in nuclear receptor mediated transcriptional regulation and cancer proliferation will enable novel designs of specific oligonucleotide-based blocking strategies to treat cancer as well as other diseases. 
Dr. Chen was awarded a 3 year Helmsley Postdoctoral Fellowship for his project entitled: "Determining the role and genomic regulation of a novel p53 activated immune/inflammation pathway in limiting viral and tumor replication". More details
PUBLICATIONS (resulting from this training):
Luo J*, Zhao L*, Chen AY*, Lee J, Hughes G, Zhang X, Zhu J, Zhao J, Hong O, Shaw P, Sadda S, Rosenfeld MG, Zhang K TCF7L2 Variation and Proliferative Diabetic Retinopathy. * Equal contribution. Diabetes. 2013 Jul;62(7):2613-7. PMC3712060
Li W, Notani D, Ma Q, Tanasa B, Nunez E, Chen AY, Zhang J, Merkurjev D, Ohgi K, Glass CK, and Rosenfeld MG Functional roles of enhancer RNAs for oestrogen-dependent transcriptional activation. Nature. 2013 Jun 27;498(7455):516-20. PMC3718886
Other publications (prior to Training Grant appointment):
Chen AY, Steve Kleiboeker and Qiu J Productive Parvovirus B19 Infection of Primary Human Erythroid Progenitor Cells at Hypoxia is Regulated by STAT5A and MEK Signaling but not HIF. PLoS Pathog. 2011 Jun;7(6):e1002088. Epub 2011 Jun 16.
Zhang EY, Xiong J, Parker B, Chen AY, Ma X, Qiu J and Yankee TM Depletion and recovery of lymphoid subsets following morphine administration. Br J Pharmacol. 2011 May 10. doi: 10.1111/j.1476-5381.2011.01475.x
Chen AY and Qiu J, Parvovirus Infection-induced Cell Death and Cell Cycle Arrest. (Invited Review) Future Virol. 2010; 5(6): 731-743.
Chen Z, Chen AY*, Cheng F and Qiu J Chipmunk Parvovirus is Distinct From Members in the Genus Erythrovirus of the Family Parvoviridae. PLoS ONE. 2010; 5(12): e15113. * Equal contribution.
Luo Y, Chen AY, Qiu J. Bocavirus Infection Induces a DNA Damage Response That Facilitates Viral DNA Replication and Mediates Cell Death. J Virol. 2010; Nov.3 [Epub ahead of print]
Chen AY*, Guan W*, Lou S, Liu Z, Kleiboeker S and Qiu J. Role of Erythropoietin Receptor Signaling in Parvovirus B19 Replication in Human Erythroid Progenitor Cells. J Virol. 2010; 84(23):12385-96. * Equal contribution. Featured in Spotlight section of this issue. [J Virol. 2010; 84(23): 12099]
Chen AY*, Cheng F*, Lou S, Luo Y, Liu Z, Delwart E, Pintel D and Qiu J. Characterization of the Gene Expression Profile of Human Bocavirus. Virology. 2010; 403(2):145-54. * Equal contribution.
Chen AY, Luo Y, Cheng F, Sun Y and Qiu J. Bocavirus infection induces a mitochondrion-mediated apoptosis and cell cycle arrest at G2/M-phase. J Virol. 2010; 84(11):5615-26. 9.
Cheng F, Chen AY, Best SM, Bloom ME, Pintel D and Qiu J. The capsid proteins of Aleutian mink disease virus (AMDV) activate caspases and are specifically cleaved during infection. J Virol. 2010; 84(6):2687-96.
Chen AY, Zhang EY, Guan W, Cheng F, Kleiboeker S, Yankee TM and Qiu J. The Small 11kDa Non-structural Protein of Human Parvovirus B19 Plays a Key Role in Inducing Apoptosis during B19 Virus Infection of Primary Erythroid Progenitor Cells. Blood. 2010; 4;115(5):1070-80. Featured in the Inside Blood section of this issue [Blood. 2010 Feb 4;115(5):922-3] [PMC2817633].
Zhang EY, Chen AY and Zhu BT. Mechanism of Dinitrochlorobenzene-Induced Dermatitis in Mice: Role of Specific Antibodies in Pathogenesis. PLoS ONE. 2009; 4(11): e7703.
Chen Z, Guan W, Cheng F, Chen AY and Qiu J. Molecular characterization of human parvovirus B19 genotypes 2 and 3. Virology. 2009; 25;394(2):276-85.
Sun Y, Chen AY, Cheng F, Guan W, Johnson FB, Qiu J. Molecular characterization of infectious clones of the minute virus of canines reveals unique features of bocaviruses. J Virol. 2009; 83(8):3956-67.
Chen AY, Lee AJ, Jiang X-R, Zhu BT. Chemical Synthesis of Six Novel 17-Estradiol and Estrone Dimers and Study of Their Formation Catalyzed by Human Cytochrome P450 Isoforms. J Med Chem. 2007; 50(22):5372-81.